Walking along the coast of the Strait of calais
The Strait of Calais is the shortest (narrowest) stretch of strait connecting the Iberian Peninsula with mainland Europe. 
It is one of the highlights of France's Opal Coast, loved by many hikers, and is located in the Pas-de-Calais, in the municipality of Escalles, near the charming town of Calais. In 2011, the stretch of coast was officially recognised as a nature reserve for the beauty of its landscapes.
Along the coast, you can find many remnants of bunkers from recent history, dating back to the Second World War. With many nice towns and villages that can be reached on foot, the area is loved by many hikers and people who go on day trips. Definitely a must!
As mentioned above, the tides between Cap Blanc-Nez and Cap Gris-Nez can vary greatly. When you take a walk, it is important to take this into account. 
At low tide, the beach is very wide with a number of pools and sand banks, but at high tide the water rises quickly and sometimes reaches the dunes! Because of this, walkers have been trapped on sand banks in the past. So pay attention when you go for a walk and don't be surprised by the water.
There are many tools and websites that can help you better estimate the tide. However, wind force and weather are also good indicators of how strong the difference and speed of the tides can be. Therefore, beware of rainy weather and high winds.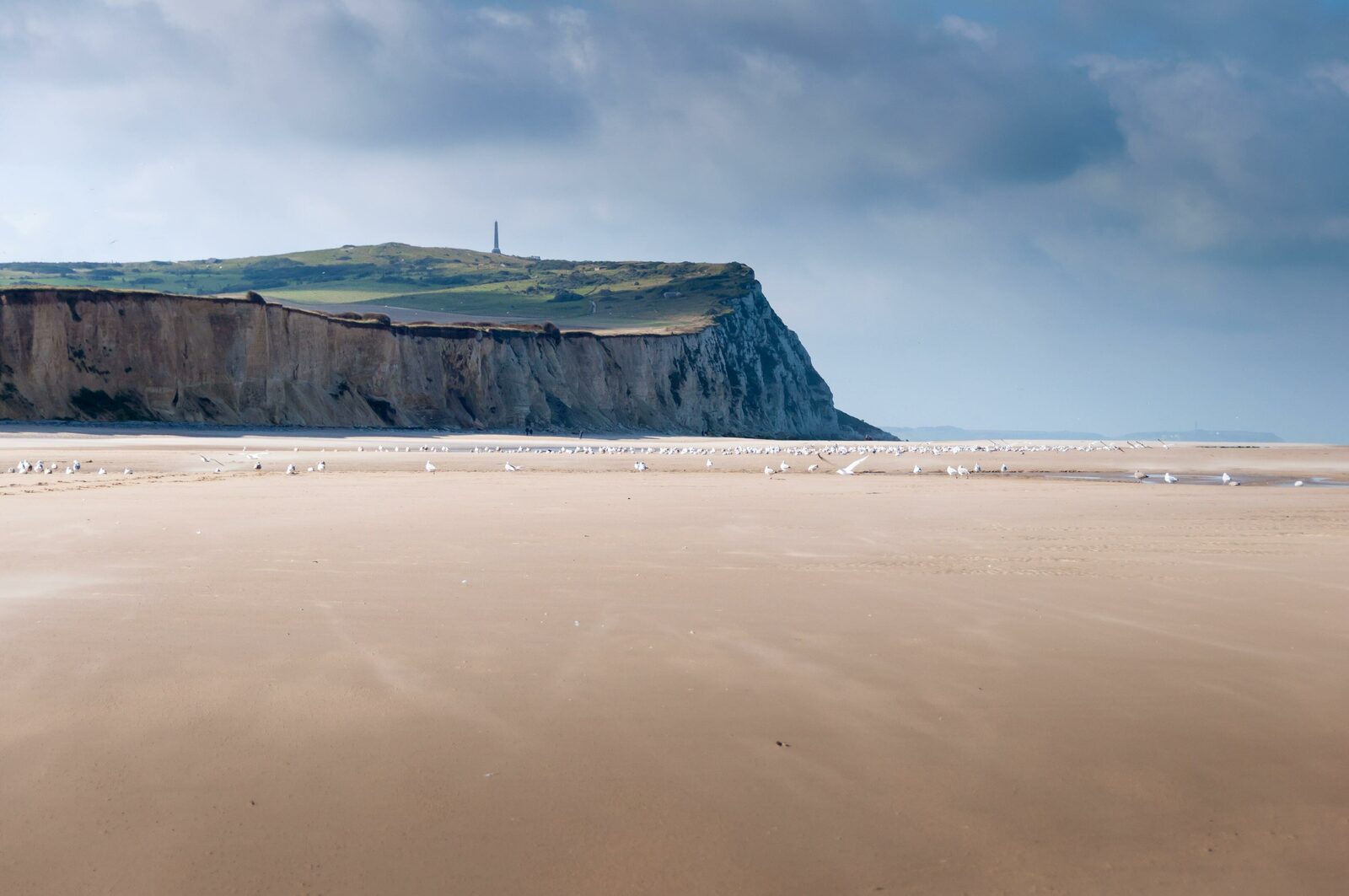 The fossils in Cap Blanc-Nez & Cap Gris-Nez
Because the rocks that characterise the landscape here are hundreds of millions of years old and originate from the sea floor, fossils such as ammonites, flints and coprolites can also be found here. 
These fossils have been loosened by erosion and can sometimes be picked up. Do not expect to come back with hands full of fossils, because a fossil on its own is a special thing and to find one is even more special.
It is allowed to bring back found fossils in small quantities. However, for some time now it has been forbidden to dig through clay and stone layers with heavy tools. In this area there are a number of designated areas where you are allowed to search, and an area where you are free to search. 
There is also a boundary marked as a protected area where fossil hunting is not allowed at all.
Sometimes the tide pushes up projectiles and other remnants of the Second World War. Despite the fact that these war materials are already more than half a century old, they can be life-threatening. They are only safe once a specialist has declared them unfit for use. Therefore, always leave them behind!
Enjoy the seafood, shellfish and delicious fish at the different restaurants along the coast
The Opal Coast is known as the breeding ground for mussels, shellfish and crustaceans. It is therefore no surprise that the restaurants in the villages around Cap Blanc-Nez and Cap Gris-Nez specialise in this field.
There are also many other delicious fish dishes on the menu such as shrimp, lobster and crab which you can enjoy while enjoying a nice French white wine. Restaurant La Sirene, Les Margats de Raoul and Les Falaises in Escalles are highly recommended.
When you visit one of the many eateries, you can expect a warm welcome full of French warmth. The employees and restaurant owners will do everything to let you leave with a full stomach and a good feeling.